Irish Polling Indicator, update August 2021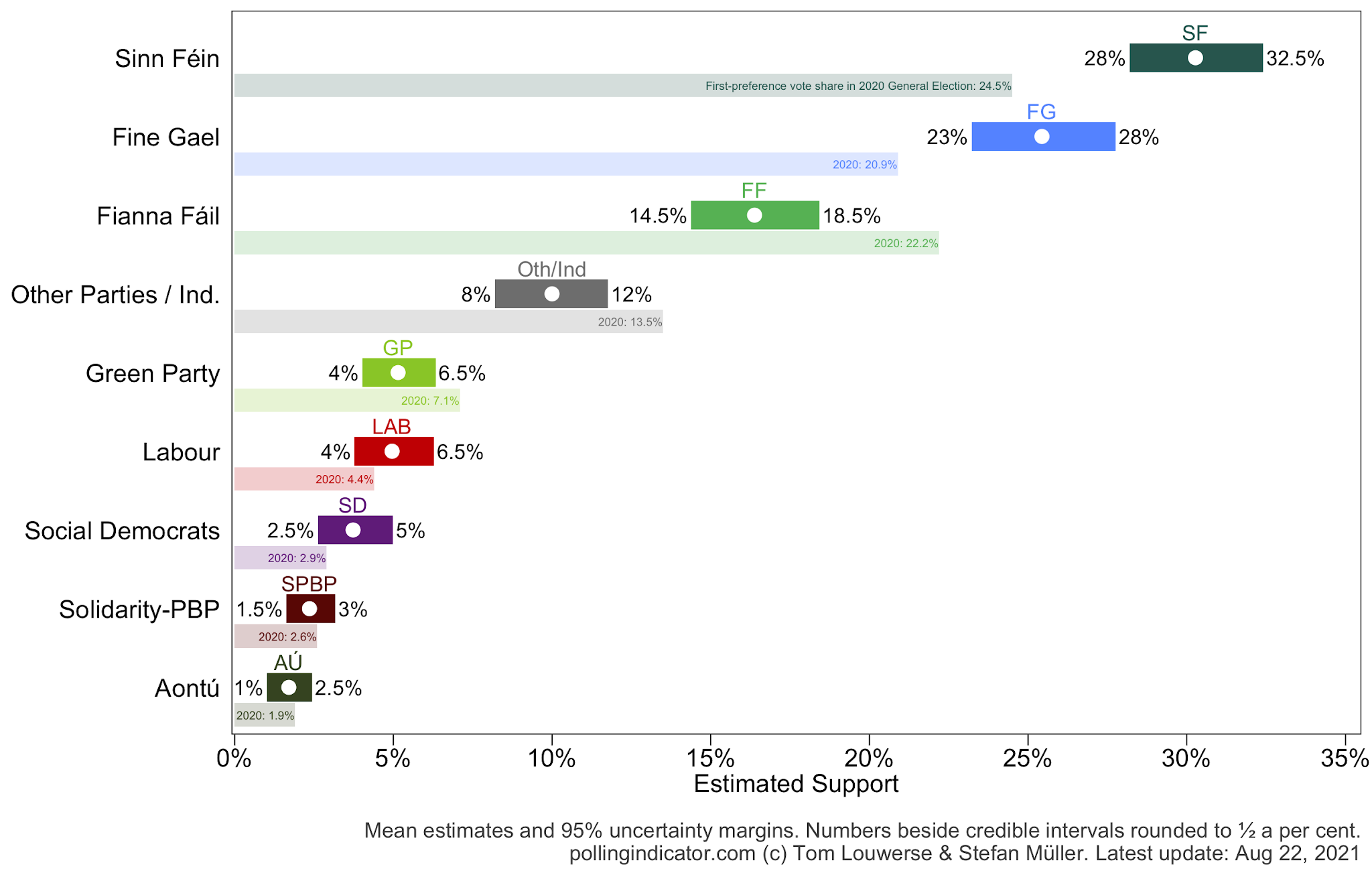 We have updated the main graph showing the current standing of Irish political parties and independent candidates. In particular, the new graph now focuses even more on the range of our estimates. In addition, we add the first-preference vote shares in the last general election on 8 February 2020. We hope you like these changes. Please get in touch with us if you have any questions or improvement suggestions.
Turning to the parties standing in the polls, we observe high degrees of stability. Vote share for the government parties remains relatively stable. The Dublin Bay South bye-election may have slightly increased support for Labour after Labour's candidate Ivana Bacik won the vacant seat. Yet, the slight increase is within the margin of error. Fine Gael's downward trend persists, but the Merrion Hotel scandal that involved Tánaiste Leo Varadkar did not seem to correlate with a drastic decrease in support for Fine Gael. Still, support for the party has dropped by more than 10 percentage points since July 2020 (from around 34-38 per cent to 23-28 per cent).
Sinn Féin is still the strongest party in Ireland, with support ranging between 28 and 32.5 per cent. Fianna Fáil stands at 14.5-18 per cent, followed by Other parties and Independent candidates [8-12 per cent].
The Green Party and Labour both stand at 4-6.5 per cent, followed by the Social Democrats [2.5-5 per cent], Solidarity-PBP [1.5-3 per cent], and Aont? [1-2.5 per cent].
We will update the Irish Polling Indicator with the release of every new poll and continue to summarise the latest developments once per quarter.