Irish Polling Indicator, update May 2021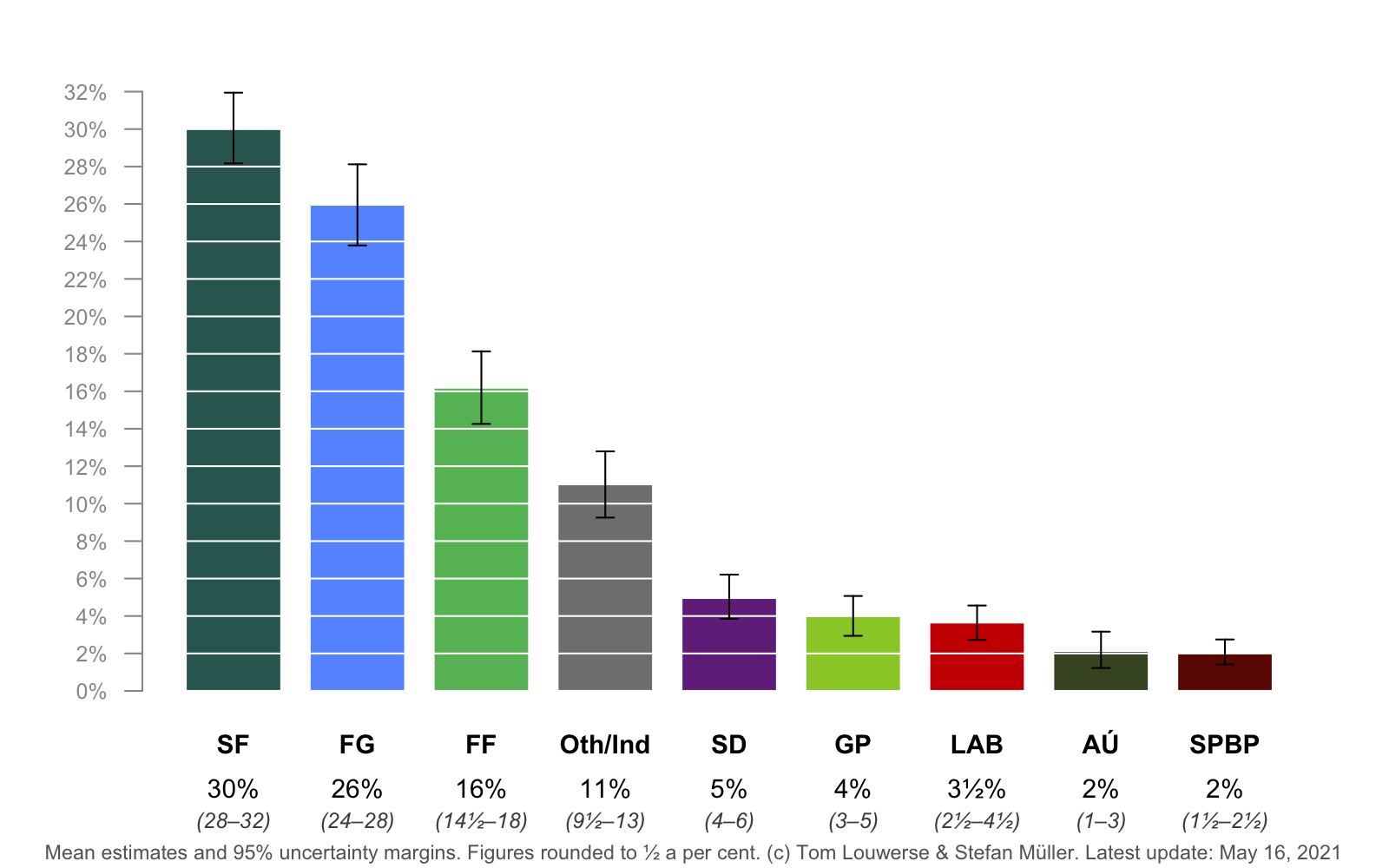 In this blog post, we outline recent updates in relation to our polling aggregation and visualisation of results. Afterwards, we summarise the current standings of Irish political parties.
Changes to the polling indicator, graphs, and website The Polling Indicator and the graphs come in a new layout. We have made various changes to better reflect the current Irish political landscape. We also worked on the interactive graphs and the website layout:
Aontú is now included as a separate party, and not merged with "Other Parties/Independents". With the exception of five opinion polls in the first half of 2020, all published polls explicitly report results for Aontú. We revised the underlying data source and explicitly stored support for Aontú. This allows us to include the party in the polling aggregation and report support for the Aontú since the general election in February 2020.
We have revised and updated the Methods page to better reflect the current version of the polling aggregation.
We have updated the interactive visualisations. The new JavaScript graphs are more intuitive. For instance, coloured boxes make the selection of parties and pollsters more straightforward. In addition, the plots load much faster and are now much better suited for mobile devices.
We adjusted the layout of the website. We hope you continue visiting our website in the future. If you have any suggestions and comments, please do not hesitate got get in touch with us.
The current standing of Irish political parties
All 10 polls published in 2021 estimate Sinn Féin at 27 per cent or above, underlining the consistency in support for the largest opposition party. Currently, the Polling Indicator ranks Sinn Féin as the strongest party at 28 to 32 per cent.
Fine Gael still struggles to regain support. Having polled consistently at 35 per cent around one year ago, the party now stands at 26 per cent [24-28]. Fine Gael has not polled above 30 per cent in any of the polls published this year.
Fianna Fáil, the party of Taoiseach Micheál Martin, seemed to have stopped the downward trend, but with 14.5 to 18 per cent support for Fianna Fáil is considerably below the levels of support for Fine Gael.
In 2021, the Social Democrats perform on par or higher than the Green Party and smaller opposition parties. The aggregated support for the Social Democrats has increased from around 2.5-4 per cent in January 2021 to 4-6 per cent in May. Labour stands at 2.5 to 4.5 per cent; Aontú and Solidarity-PBP rank at around 2 per cent. Other parties and Independent candidates range between 9.5 and 13 per cent.
In sum, we did not observe any major changes since we published our previous blog post in February 2021. It remains to be seen how the governments' handling of the pandemic and the re-emergence of the housing issue will relate to party support in the near future.