Irish Polling Indicator, update October 2018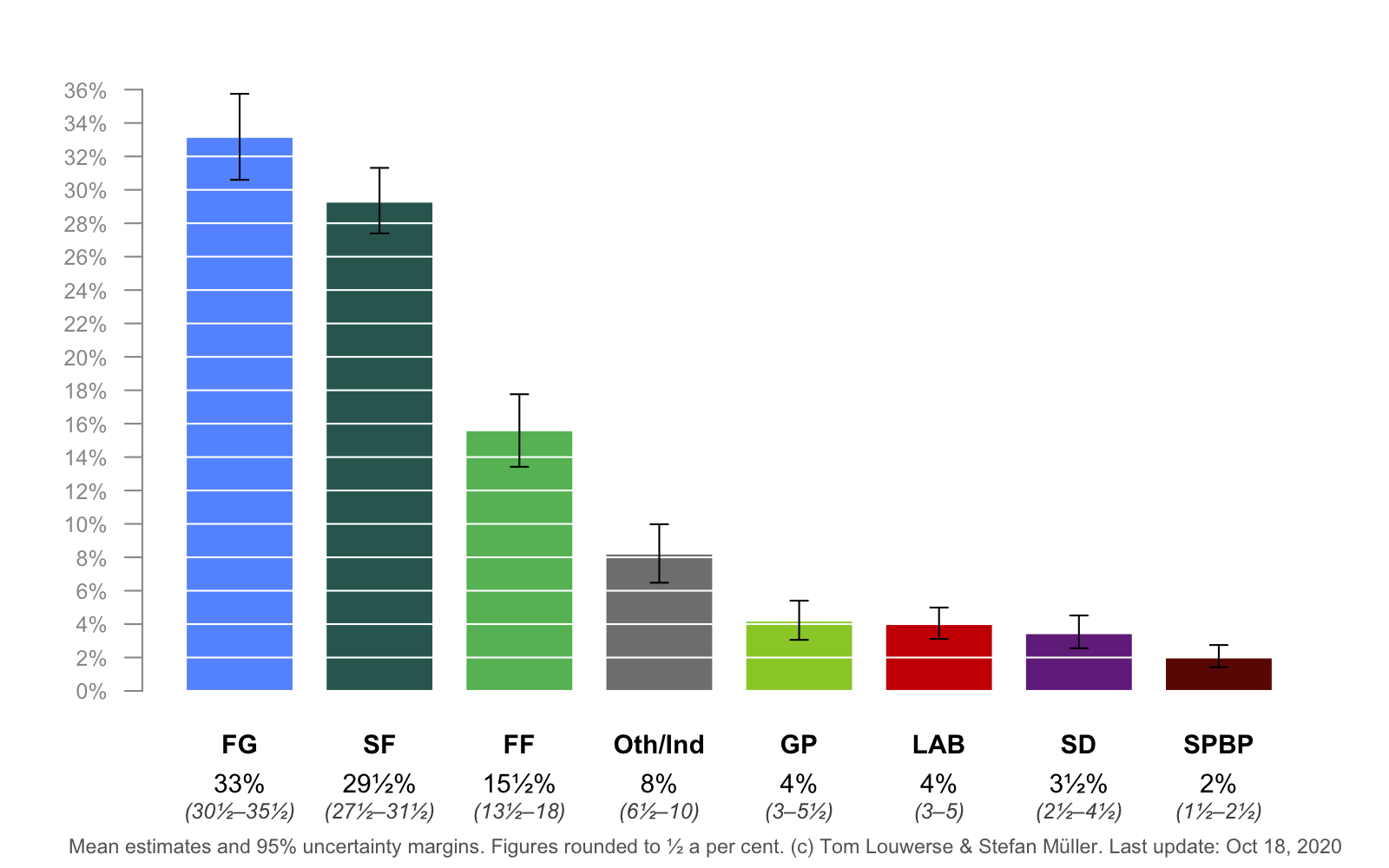 Irish survey institutes have released fifteen polls since the general election in February 2020. Currently, support for Fine Gael ranges between 30.5 and 35.5 per cent. Two polls in August and early September put Fianna Fáil at 10 and 11 per cent, the lowest ever recorded results (besides a Sunday Independent/Millward Brown poll from September 2011, which also ranked Fianna Fáil at 10 per cent). Retrospectively, the Polling Indicator estimated Fianna Fáil at around 13 per cent during this time. The latest release of the Polling Indicator ranks the party of Taoiseach Micheál Martin at 15.5 [13.5-18] per cent.
At the moment, the Green Party does not profit electorally from being part of the government. In mid-June, the Polling Indicator put the Greens at 11 per cent. In mid-October, the party stands at only 4 [3.5-5.5] per cent.
Sinn Féin's support as the largest opposition party has been remarkably stable in the last six months. Current support for Sinn Féin ranges between 27.5 and 31.5 per cent. Labour polls at 3-5 per cent, the Social Democrats between 2.5 and 4.5 per cent, Solidarity-PBP stands at 1.5-2.5 per cent. Other parties and independents rank between 6.5 and 10 per cent.
We will update the Irish Polling Indicator with the release of every new poll. Note that the graph with the most recent standings now reports the last update of the Polling Indicator. We will also continue to summarise the latest developments once per quarter.