Irish Polling Indicator: Fine Gael, Fianna Fáil gaining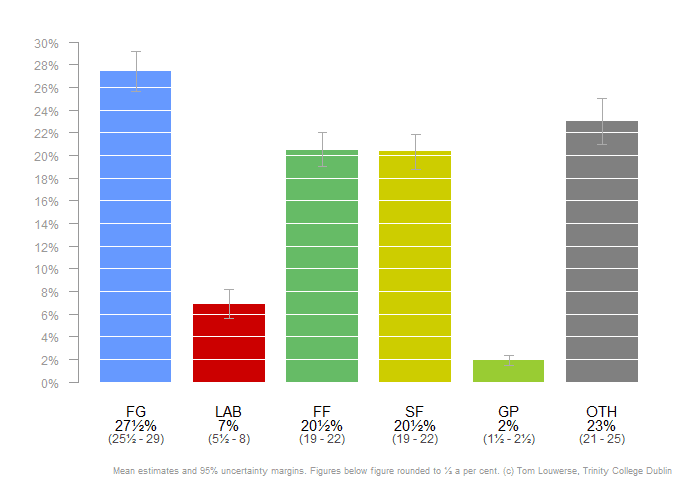 The largest government party, Fine Gael, and the largest opposition party, Fianna Fáil, have both seen their electoral prospects improve over the last months, according to the Irish Polling Indicator. Fine Gael has recovered from a 22% low early December 2014 and now polls around 27%. Micheál Martin's party also found the way up, increasing about 2% since late March. At 21% the party is finally improving on the consistently poor level of polling it had seen in the last year.
The Irish Polling Indicator aggregates all available opinion polls into an 'average' estimate of party support. It shows that Labour is back at about 7% support after it saw an increase in support earlier this year. Taking into account the margin of error of the polls, the party has been more or less at the same level since October 2014, when it polled about 2 per cent higher.
Sinn Féin saw its poll numbers drop somewhat over the last couple of months. In February the party stood 2% higher than the 20% support it is currently enjoying. Most of the pollsters agree on this pattern, although it is more pronounced with Millward Brown (-5%) than with some other pollsters (Red C -3%, B&A no change).
Independents and smaller parties are currently polling at 23%. While this represents a decline since the December 2014 peak of 29%, support for this group of parties and candidates has stabilised somewhat in the last couple of months. Moreover, the group is still winning as compared to the 2011 election result (about 15%). The Green Party is estimated at about 2%.