Irish Polling Indicator, update September 2014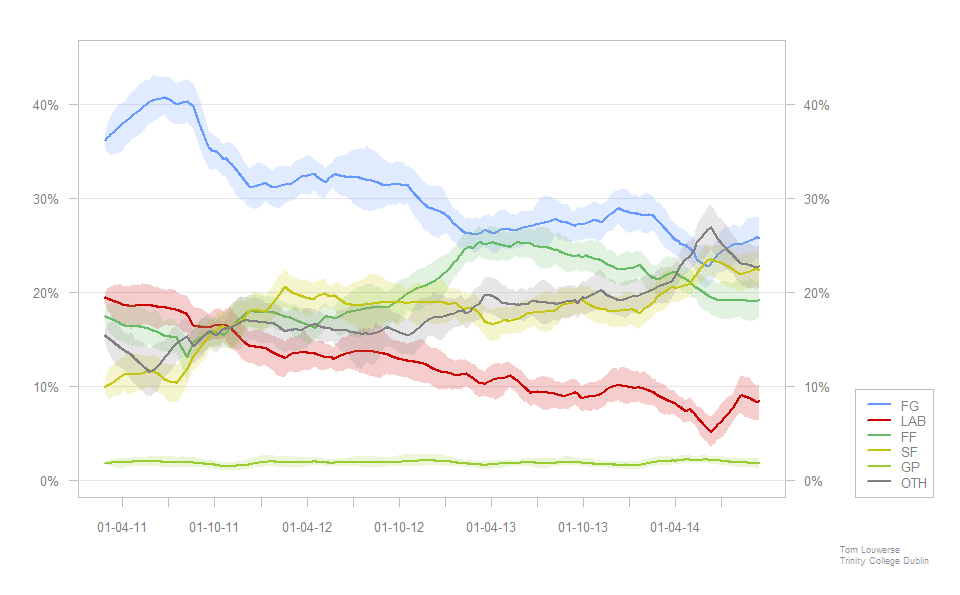 Government parties gain, independents fall in Irish Polling Indicator
Fine Gael and Labour show increased popularity in opinion polls in the last months, the Irish Polling Indicator shows. Fine Gael is now on 26% with Labour at 8%, which represents a 3 percentage point increase for both parties compared to early June. Independents, meanwhile, have seen their support drop from 27% early June to 23% now. Sinn Féin support is now estimated at 22% and Fianna Fáil at 19%; neither party shows a significant change in support over the summer.
Government parties
The long-term trend in support shows a decline of about 11 percentage points for both government parties. The development in Fine Gael and Labour's standing among the electorate is quite similar: both parties show a steady decline since the election, apart from an initial boost for Fine Gael. The gains both parties made over the summer is in fact the first significant increase in their support since August 2011.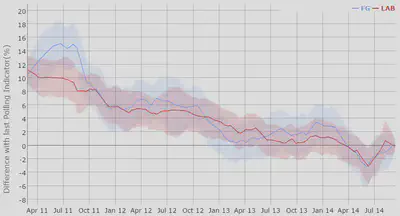 Polls disagree on the extent of Labour's recovery. One B&A poll put Labour on 14% early August of this year, about a month after Joan Burton's election as party leader. Other polls estimated Labour at 8 to 9 per cent at the start of this month. Given the historical patterns in the volatility of Labour support it is unlikely that the part went up to 14% and then down again to 8%. Therefore, the Polling Indicator has Labour's peak at 9% in August, declining slightly to 8% now.
Largest party
While Fine Gael is estimated to be the largest party in the Irish Polling Indicator, there is a small chance that Independents are in fact more popular among the total population at this point. The difference between the two groups is estimated to be just under 3% (uncertainty margin: +/- 3%). Still, this presents a strong improvement for Fine Gael, which trailed Independents by more than 4% in early June.
Sinn Féin is also still very close to top spot in the polls. The rapid period of growth from January (18%) to May (23%) has come to an end, but party has maintained its high level of polling over the summer. The slight decline to 22% now falls well within the uncertainty margin.
Uncertainty margin The Irish Polling Indicator aggregates opinion polls from four major polling firms in Ireland (Behaviour & Attitudes, Ipsos MRBI, Millward Brown and Red C Research). This reduces uncertainty associated with opinion polling and therefore helps to identify the trends in public opinion. The uncertainty margin associated with the IPI results is approximately plus or minus 2% for the major parties, which is about one-third less than the margin of error of individual Irish opinion polls. More about the method behind the Irish Polling Indicator as well as additional figures & graphs are available from link