Irish Polling Indicator, update August 2014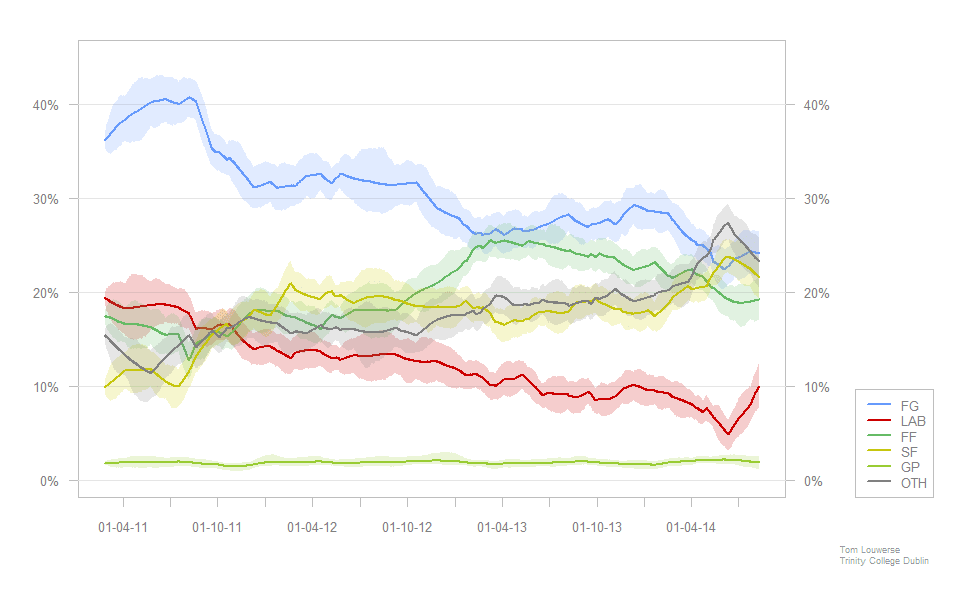 Irish Polling Indicator: Labour support doubles in two months
Support for the Labour party has increased from 5% early June to 10% early August, the Irish Polling Indicator finds. The IPI pools information from all national Irish party opinion polls to arrive at what is arguably the best estimate of the parties' current standings. Fine Gael comes out on top with 24%, but because of the uncertainty margin all opinion polls have, Independents/Others on 23% or Sinn Féin on 21.5% might also be in the lead. Fianna Fáil lags somewhat behind on 19%.
The reversal of Labour's fortunes comes after the election of Joan Burton as new party leader early July. A Behaviour & Attitudes poll released 16 August has Labour on 14%. Another poll, conducted by Millward Brown, however had Labour support on only 7% at the second half of July. While there might have been an increase of Labour support in the meantime, it is also quite likely that part of that 7 point gap between the two polls is the result of sampling error of the polls or other differences in how the two pollsters conduct their research. As a result, the current estimate for Labour in the Polling Indicator is 10 percent (margin of error +/- 2.5%).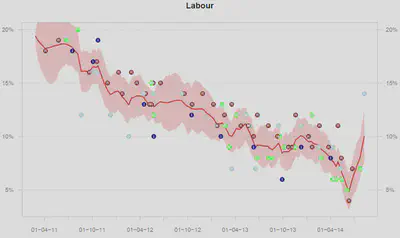 Support for Labour in the Irish Polling Indicator (line and shaded area) and separate polls (dots).
The light blue dots with B represent B&A polls, the green M dots indicate Millward Brown surveys. It is clear that the last B&A poll represents a significant jump upwards, even compared to the post-leadership election poll by Millward Brown.